Upcoming Primitive Hall Events
Lecture: Saving King Ranch Lands ~ Thursday, October 27th
Join us this fall for another illuminating lecture!
We're delighted to welcome David Shields, the Associate Director of the Environmental Management Center of the Brandywine Conservancy. David will give us an informative history of the King Ranch, as well as some insights into the Conservancy's remarkable success in preserving this beautiful area for generations to come.
The King Ranch is the largest private conservation easement in the United States. Even if you think you know all about it, you'll want to come and learn more!
For the Brandywine Conservancy, David oversees, solicits and enforces land conservation easements. Through his important work, he is directly responsible for the permanent protection of over 25,000 acres of our beautiful region.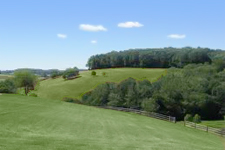 Click To Reserve Tickets By Email
Thursday, October 27th
Reception 6 pm ~ Lecture 7 pm
$35 per person